Ah, yes. The crisp air, fallen leaves on the streets, cool breeze bringing a blush to your face – my favorite season, autumn, is finally here!
In Japan, this time of year is made exciting not only by unforgettable events (think Halloween costume parties right on the streets of Shibuya and solemn night lantern parades at Chichibu), stunning city illuminations and traditional festivities – but by the heart-stopping autumn scenery as well.
One of the post-card shots for a trip to Japan during fall is, of course, the uniquely beautiful field of kochias in Hitachi Seaside Park. If you, too, are dreaming of seeing those visions in red, read on for some useful information about the trip and some personal tips from our own visit.
When to Go
Kochia is actually planted in the summer (around Mid-July) and start out as fluffy, green displays of nature's charm. As autumn rolls in, they start changing color. Crimson tints begin appearing in early October. Around the middle of the month, they reach the peak of their scarlet-red color and then turn rustic gold as the month ends.
The specific dates can vary year to year but one very useful tip is that on the park's website, you can actually find updates about the forecasted growth of the plant for every year.
It should also be stated that although most commonly known for its spring blooms and autumn foliage, Hitachi Seaside Park is an attraction that merits visiting at any time of the year to enjoy the various flora that stretch throughout the property.
Park hours are as follows:
March 1 to July 20 (9:30 – 17:00)
July 21 to August 31 (9:30 – 18:00)
September 1 to October 31 (9:30 – 17:00)
November 1 to end of February (9:30 – 16:30)
They are close every Monday, from the first Tuesday to Friday of February and on December 31 and January 1. They might also be closed because of holidays so be sure to consult Google in advance.
---
Tip 1:
Check out this PDF before making your final plans about when to go. This shows the kochias' bloom schedule for the last couple of years and the forecast for this year's. For 2019, peak season will be from October 17 to 23.
---
How To Get There
Hitachi Seaside Park, located in Ibaraki Prefecture, is easily accessible from Tokyo by car of public transport.
By Car
It was a rainy October day when we went to the park. Since we also had one kid in tow, we decided that driving would be the better choice and we were able to reach our destination around 2 hours after departing from Tokyo. Car parking for the entire day costs ¥520.
Although the area is able to accommodate more than 4,000 cars, during high seasons, parking could still get difficult (imagine what that means in terms of number of visitors *hint hint). As a precaution, the management would open additional temporary parking areas but they still advise customers to take public transportation.
By Train
From Shinagawa Station (Platform 9), Tokyo Station (Platform 8) or Ueno Station (Platform 8), you can board Joban Line's Hitachi-Takiwa train (colored Pink) bound for Katsuta Station. Depending on where you start from, the trip will take 1 hour 10 mins to 1 hour 40 mins and set you back ¥3890 one way.
Upon exiting Katsuta Station, get on the bus at stop number 2. One way, the ride would cost ¥400 and it would take 15 minutes to get to the park's west exit (海浜公園西口 – Kaihin Koen Nishiguchi) and around 20 minutes to get to the south exit (海浜公園南口 – Kaihin Koen Minamiguchi).
---
Tip 2:
At Katsuta Station, you can get a roundtrip bus ticket to Hitachi Seaside Park for ¥1200 and this would already be inclusive of your entrance fee to the park. This saves you ¥150. Just be sure to keep the ticket as you would need to show it to get inside the facility and for the bus ride back to the station.
---
By Bus
This option could be cheaper than going by train. However, be cautious as it could be tricky. First of all, the trips are limited. Going to the park, only one bus is available from Tokyo Station and it leaves at 10:30 am. They do not accept reservations and would only be able to accommodate the first 50 people. There are about two bus trips back to the city but the last one leaves before 5:00 pm.
If you are willing to take a chance, you can catch the bus outside Tokyo Station's Yaesu South Entrance. Ask for the Ibaraki Kotsu Highway Express Bus (茨城交通). One way ticket is ¥2100 but expect to be asked to pay an additional ¥200 as 'seat payment' while you are already on the bus. Your stop would be Kaihin Koen Nishiguchi (海浜公園西口) and it would take about two and a half hours to get there.
Getting Around the Park
Admission Fee
Unless you took advantage of the roundtrip bus fare plus park entrance package offered at Katsuta Station, you will have to pay for the ¥450 ticket before being admitted inside. Everyone aged 15 and below can enter for free and people who are 65 years old and over only have to pay ¥210.
---
Tip 3:
For visitors traveling with kids, know that you can borrow baby strollers for free. Just request for it at the entrance. Wheelchairs and silver cars are also available for those who need it.
---
Walking
Hitachi Seaside Park is huuuge. Take it from a girl who made the mistake of wearing heeled booties when she went there. Because of this, where you choose to enter the location is important. For most people, the main attraction is in the area called Miharashi Hill. This is where the heavenly blue nemophilas bloom in spring and where you can find the kochias in autumn. Of the 3 entrances (west, central and south) accessible through public transport, the west entrance is the closest to Miharashi Hill – at only 10 minutes by foot. From the central entrance, it would take you around 14 minutes and 22 minutes from the south.
Of course, this tourist destination has more to offer than just Miharashi Hill and if you're down for some exploring, you can take a leisurely stroll around. Maps can be found all over and areas are 'zoned' and given names so you can easily find your way.
---
Tip 4:
Although maps are posted all over the park and you can get a pamphlet at the entrance, it would be nice to get to know the site even before you make your way there. This could help you create your game plan on traversing the area and identify the attractions you won't want to miss. For this, I really recommend downloading this PDF guide map in advance. You can choose to print it out for everyone in your party or just save it on your phone for a quick glance every now and then.
---
Biking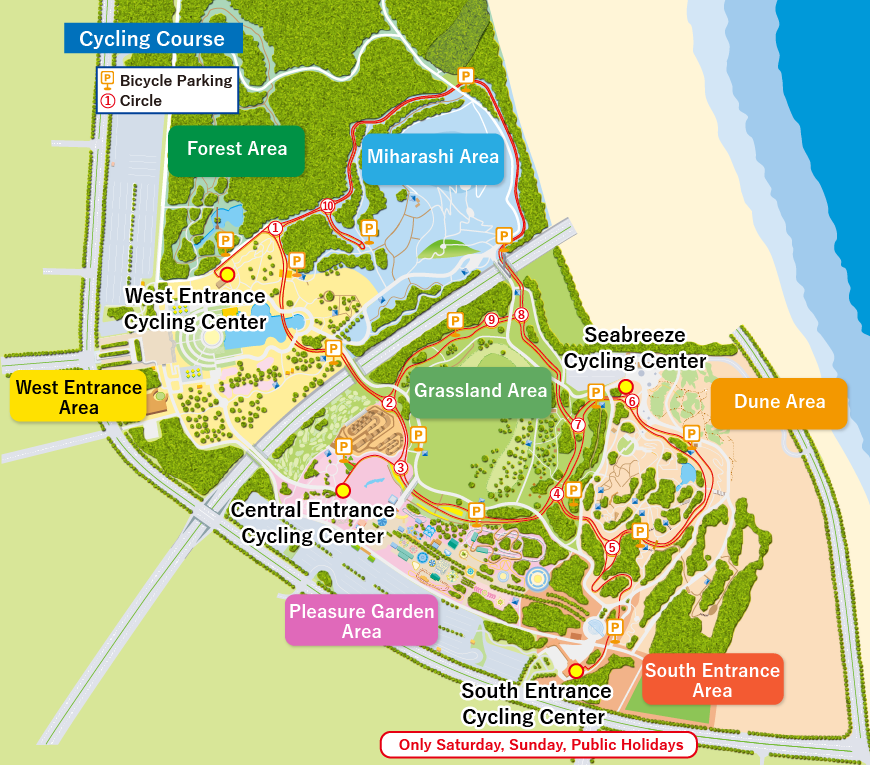 There is a dedicated biking path (red line in the above picture) that spans the entire park. Following the 11-kilometer trail would take you to the scenic seaside and forested areas in addition to the attractions at the center of the property.
You can bring your own bike and ride them around the cycling lane for no additional payment. They also offer bike rentals for the following basic fees:
Adults (¥410 yen for 3 hours/ ¥510 for one-day use)
Children (¥250 yen for 3 hours/ ¥310 for one-day use)
Note that one-day rental is not available during high-seasons and you would have to pay an overtime fee if you don't return the bike on time.
---
Tip 5:
If you're feeling extra adventurous, keep an eye out for the BMX course beside the giant ferris wheel.
---
Seaside Train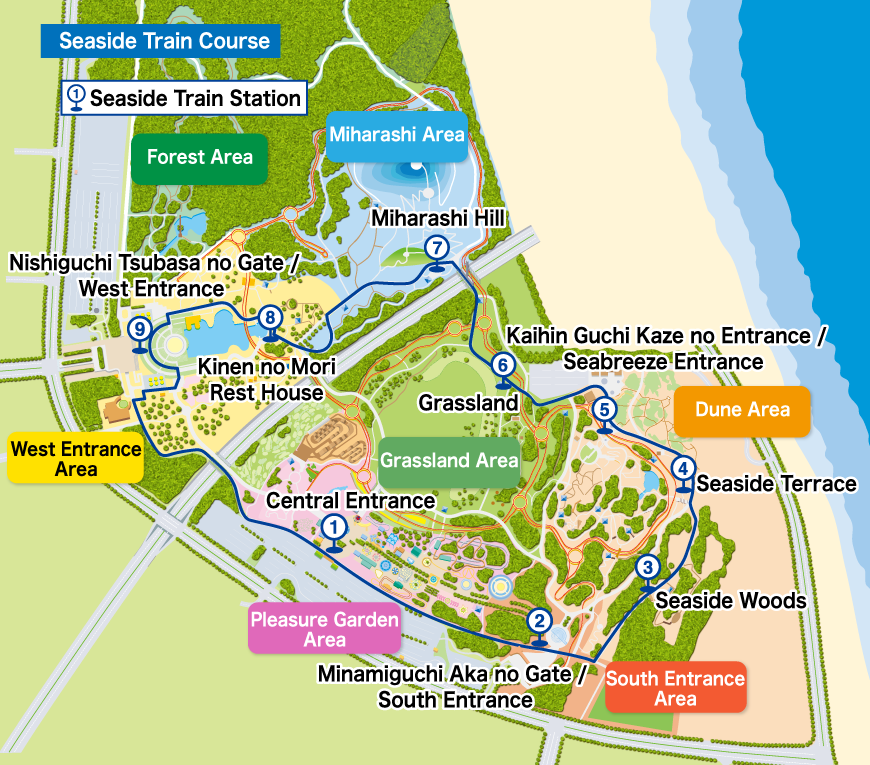 The blue line on the picture above shows the course of the Seaside Train and its stops. You can get a ticket for only ¥600 and you can use that to get on and off the train at any time within the day. If you decide to stay on and enjoy the view, circling the entire property would take nearly 40 minutes.
---
Tip 6:
Stay connected while inside the park. Free WIFI is available at Lake Side Cafe and Kinen no Mori Rest House which are both located at the West Entrance Area.
Wi-Fi SSID: IBARAKI-FREE-Wi-Fi
Wi-Fi Password: ibarakiken
---
Conclusion
There you have it. My guide and tips for a productive, worth-the-money-and-time jaunt to Hitachi Seaside Park. Whether you live in Japan or are a tourist looking for a unique experience, a day-trip here is definitely a must-try. Enjoy!